The Quintessential Yosemite Icon
Half Dome is rock formation in Yosemite National Park named for its distinct shape, which resembles a dome that has been cut in half. It is one of the most iconic landmarks in the park and is featured in many of its logos and promotional materials.
Half Dome is a granite dome that rises nearly 5,000 feet (1,500 meters) above the floor of Yosemite Valley. It is located at the eastern end of the valley and is visible from many points within the park. The dome is a popular destination for hikers, who can reach its summit via a challenging 16-mile (26-kilometer) round-trip hike. The hike involves a steep ascent up the back of the dome, followed by a strenuous climb up a series of metal cables that have been installed to assist hikers on the final stretch of the ascent.
Half Dome is visible from many points within the park. Its distinctive silhouette has made it an iconic symbol of Yosemite and a popular subject for photographers and artists.
One of the most iconic natural wonders in the world, Half Dome in Yosemite National Park, draws thousands of hikers and backpackers to its summit every year.
Reaching the summit at 8.839' is a physically difficult and incredibly rewarding experience, and a must-do for any serious hiker. Half Dome requires a long uphill hike at altitude followed by a final 400 foot ascent up the side of the dome using steel cables.
The cables are normally up by the Friday of Memorial Day weekend (in May) to Columbus Day (second Monday in October) each year, and a permit is required for each hiker who wishes to climb to the summit. There are ultimately two ways to consider hiking Half Dome; as a 10-12 hour day hike or as part of a longer backpacking trip.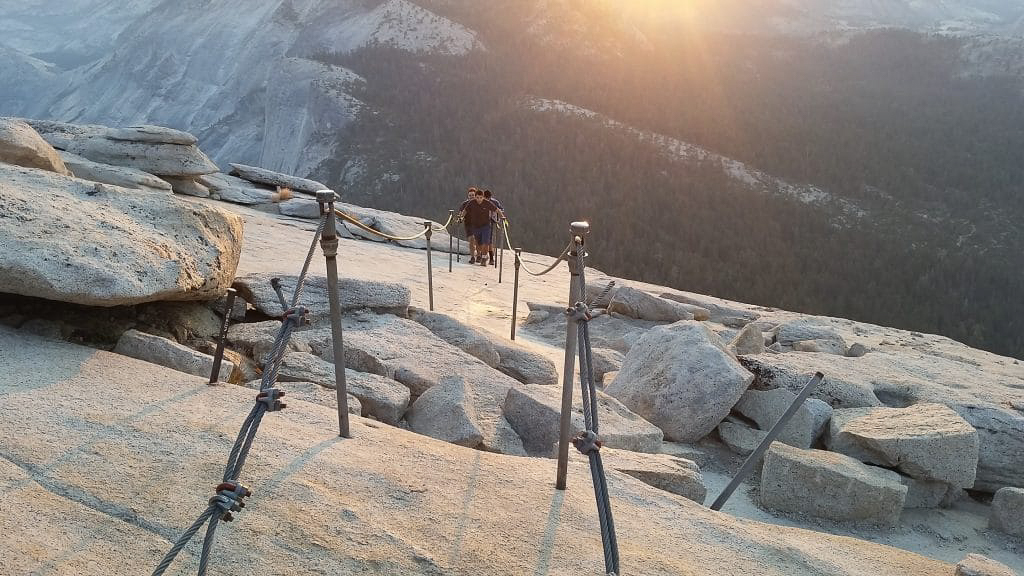 Done in a single day, hiking Half Dome is a test of both your physical conditioning and mental fortitude.
The typical Half Dome in a Day hike begins with a wake up around 4am for a 5:30am start, followed by a strenuous 8-mile hike up nearly 5,000 vertical feet to reach the base of the Dome. Then it's 30 minutes to an hour on the 400-feet of adrenaline-inducing cables to reach the summit. After that, you'll be able to spend some time at the top enjoying the incredible view before heading back down to the bottom to finish the 17-mile round trip. You're lucky if you finish before dark and within the 10-12 hour average hiking time. 
As past clients have said, "It was my most challenging and yet rewarding day ever."
Thinking about hiking Half Dome in a Day? Here are some resources:
Half Dome In a Day Guided Hike (Permits Included) 
HALF DOME YOSEMITE BACKPACKING
Summiting Half Dome as part of a backpacking trip can be a much different experience than doing it in a single day. It allows you to take your time and enjoy the rest of the wilderness experience in Yosemite as you also add in a Half Dome summit.
After guiding thousands of guests to the top of Half Dome, here are some top reasons for considering a Backpacking Trip to Half Dome over the one-day hike:
Avoid the crowds – As most people hike to the top of Half Dome and back down in a single day, everyone is starting at roughly the same time, hiking the stairs of Vernal and Nevada Falls at the same time and ultimately hanging on the cables on the side of Half Dome at the same time. Including your summit bid as part of a longer trip allows you to have a much calmer, more secluded wilderness experience. It also allows you to summit Half Dome at a time in which you have the cables virtually to yourself.
Summit at Sunrise/Sunset – As opposed to summiting in the middle of the day with hundreds of other people, the flexibility in time of backpacking allows you to experience the most incredible sunrise or sunset of your life, often alone atop the summit. This is a favorite park experience among our guides.
Avoid the Race – Let's face it, Half Dome in a Day is grueling. With nearly 5,000 vertical feet up and then back down, it is no surprise that the majority of SAR activity in Yosemite occurs on the Mist Trail that leads up toward Half Dome. While you may have the energy to truck it to the top at a fast pace, most injuries and problems occur on the race down before dark. Backpacking allows you to take your time while hiking and acclimate to the high elevations in a more gradual manner avoiding injuries and sickness.
Enjoy the Yosemite Backcountry – While the hike to Half Dome in a Day is absolutely gorgeous, backpacking allows you to experience much more of the park like swimming in serene, high altitude lakes, napping by the pristine Merced River and even summiting other peaks like the amazing Cloud's Rest, a thousand feet higher than Half Dome with an arguably better view. The hike then finishes by descending Nevada and Vernal Falls.
Value – Hiking Half Dome in a day requires lodging the night before and after in proximity to Yosemite. If you're lucky enough to find available lodging, plan to pay $250-$500 per night for two nights. If you tack on an optional guide for the day, plan to add approximately $350 each. Then add food costs which options are also quite limited in/around Yosemite. However, if you choose a Half Dome backpacking trip with Lasting Adventures, you'll be provided top brand gear, quality meals, more time in the backcountry and professional, knowledgeable guides for a much lower price than a 3 day/2night trip to Yosemite with lodging.
Let Go and Relax – With the accompaniment of our #1 rated guides, you will have the opportunity to sit back, relax and experience the nature around you. Disconnect, take a nap, take a walk around a lake, dip your feet, leave the cooking, cleaning and campfire building to us! Hiking Half Dome should be so much more than a summit-charge. Break away from the rat race and enjoy all the lakes, granite, waterfalls, rivers, lakes, streams, animals, trees, sunsets, rangers, friends and campfires that Yosemite has to offer.
Your Trusted Half Dome Tour Guides
Since 1997, we've guided groups along every step of this exhilarating experience. Our catalog of Yosemite trips includes several Yosemite Backpacking Trips that summit Half Dome, as well as our signature Half Dome in a Day Trip. These trips are among our most popular adventures, and for good reason! (All Lasting Adventures trips including required permits.)
Or if you're looking for information on securing permits for your own backpacking trip in Yosemite, see NPS Half Dome Permits for Backpackers Information
Your Half Dome backpacking trip awaits!
Our Half Dome Guided Adventures
Anytime you are lucky enough to get a Cable Permit between Memorial Day weekend in May and Columbus Day in October. However, historically there are less crowds throughout Yosemite after Labor Day weekend.
Safety harnesses are not a requirement for Half Dome and we neither recommend for or against them. We also do not provide them. It is a personal decision and ultimately does lower risk. See here for more information: https://yosemitehouse.com/half-dome-safety-gear.
For Half Dome Day Hikes: You apply for permits on Recreation.gov during the month of March for the following summer season. Lottery results are emailed around mid-April. There is an additional Daily Lottery also available two days prior to the hiking day. For more information see: Half Dome Permits for Day Hikers.
If you are interested in joining us for a Half Dome in a Day Hike, you can also email us your preferred dates by March 15th and we will add you to a permit request list. If awarded we will notify you in mid-April and hold the permits for 72-hours. We recomend you also applying to increase chances. 
For Backpacking Trips to Half Dome, you are able to obtain a Half Dome permit if you also obtain a wilderness permit for one of seven trailheads. See here for more information: Half Dome Permits for Backpackers. 
You can contact local outfitters and guide services such as Lasting Adventures, Inc. to inquire what dates they might have available. (Remember there is a charge for this service.) Other options include the two-day in advance Daily Lottery, or hiking the trail anyway and hoping you meet someone on trail that has an extra spot on their permit. Ultimately there is always next year.