11 Fun Facts on Rock Climbing El Capitan, The Granite Gatekeeper of Yosemite Valley
Ahhh El Cap, Yosemite's fabled granite monolith, the most revered big wall in the world, and the dream-send of rock climbers everywhere. Get familiar with these El Capitan facts
El Cap's mind-bending aesthetic is recognizable from popular climbing films like Free Solo, Valley Uprising, and The Dawn Wall (all HIGHLY recommended viewing experiences), or classic images from famous photographers like Ansel Adams. To the naked eye gazing up at El Cap from the valley below, humans hanging from the face appear virtually microscopic against the gargantuan granite mass. Equally obscured by the mountain's massive reputation are the myriad of fascinating El Capitan facts within its rich climbing history, some as perplexing as its physical magnitude.
To help you get to know the famous face before your visit to the valley, here are ten of our favorite El Capitan facts.
11 Fascinating El Capitan Facts
1. At more than 1/2 a mile (3,000′) high and 1 mile wide, El Capitan is the tallest exposed vertical face of granite on earth.
2. It's more than twice the height of the Empire State Building, which is 1,250′ tall.
3. According to Native American legend, the face of El Capitan was first climbed by an inchworm.
4. For most of El Capitan's westernized history, the face was believed to be unclimbable.
5. There are 250 established routes up El Cap's face, the most difficult being The Dawn Wall, first ascended by Tommy Caldwell in 2016, a route still regarded as one of the most difficult climbs on earth.
6. El Cap was first climbed in 1957 by Warren Harding, a feat that took him 45 days over the course of a year using fixed ropes and gear aid to conquer what remains El Cap's most fabled climbing route, known as "The Nose."
7. Today, climbers take an average of 3 to 5 days to reach the summit, using ropes for protection and portaleges—or hanging cots attached to the wall—for sleeping mid-climb.
View this post on Instagram
8. In 2017, Alex Honnold became the first and only climber to ascend the face without ropes. It took him 3 hours and 56 minutes from base to summit, a feat document in the popular film, Free Solo.
9. In June 2018, Alex Honnold and Tommy Caldwell set the speed record for climbing El Cap with a time of 1 hour, 58 minutes and 7 seconds.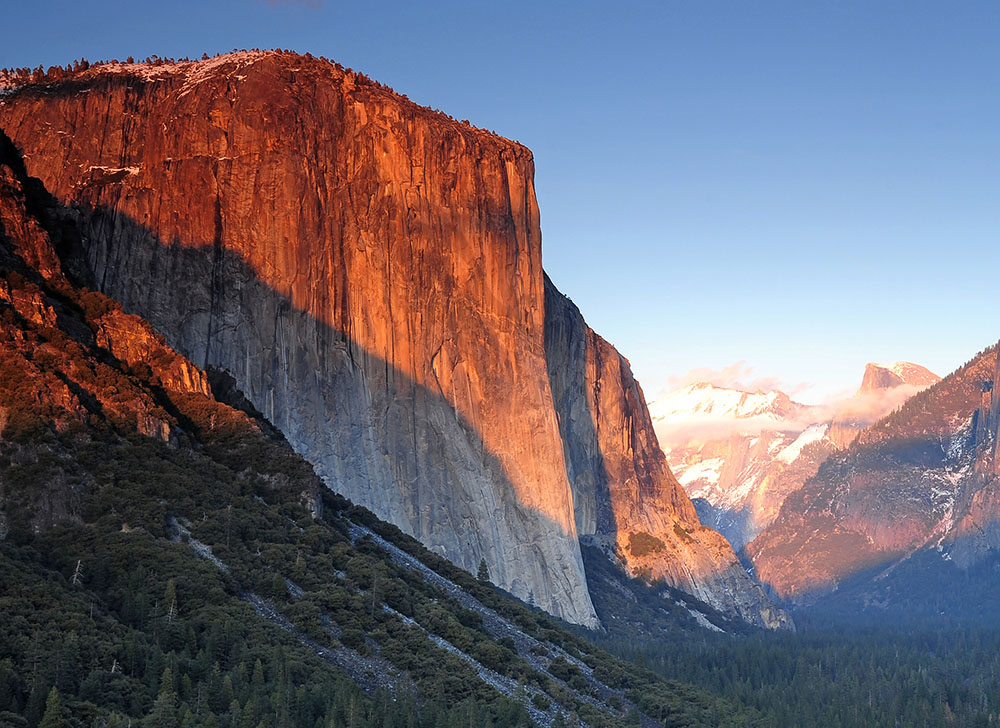 10. According to Climbing.com, 25 people have died in climbing accidents on El Cap, that most recent of which occurred in 2018.
11. El Capitan continues to be universally regarded as the mecca of big-wall rock climbing, with hundreds of climbers attempting to claim its summit each year.
For more fascinating facts about El Capitan in Yosemite, join us for a day hike tour or a guided backpacking adventure!
Guided Tours of El Capitan
Stand on top of El Capitan with our Yosemite Icons adventure!
Learn the history of El Capitan with a view from the valley in our Valley Tour day hike.